Student Conduct Board
The East Carolina University Student Conduct Board is comprised students, faculty, and professional staff, who have been trained to hear suspension or expulsion cases involving Code violations of the ECU Student Code of Conduct through a fair hearing process and provide educational sanctions. Members of the Student Conduct Board also serve on Academic Integrity Board which handles cases involving possible violations of the Academic Integrity Policy.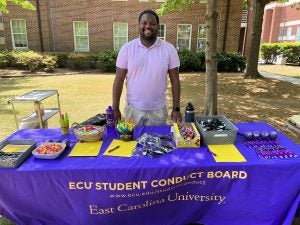 Being a part of the Student Conduct Board provides an excellent leadership opportunity. You provide service to your university community by promoting students' awareness and understanding of their rights and responsibilities, while learning and developing leadership skills for personal and professional development! Opportunities to work with staff, faculty, and community partners.
We are always accepting applications. Click here to complete the application!
If you have any questions, please contact conductboard@ecu.edu.